ABC-Products at the EM 2016 in France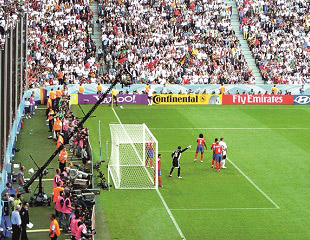 For the fifth time in a row, ABC-Products has provided the cranes and remote heads for the European Football Championship 2016 in France. The well-known and proven light crane 120 was again used in the nine-meter version, which was currently equipped with double tower cables for this major event.
This modification increases the load and improves the stability of the crane system. The new MovieTech P10 was used as a motorized 2-axis remote head unit. The head is particularly fast and precise in the control. The ramp values ​​can be programmed via four stages and can be called up in seconds via a rotary switch as required.
A new joystick provides even more sensitivity in the control. The system is connected to the crane via a Mitchell standard mount.
The cranes and remote heads are now available as second-hand units at attractive prices via ABC-Products / MovieTech.
Ask us for an individual offer!